Power Electronics Pvt.Ltd.
ISO 9001:2008 Certified
Follow Us On :





Email : info@unitoppower.in

UNI-POWER
Servo Voltage Stabilizer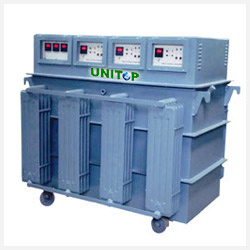 We are among the prominent manufacturers, exporters and suppliers of industrial Servo Voltage Stabilizer and regulators. Our range comprises products like Automatic Servo Voltage Converter, Single Phase Air Cooled Servo Voltage Stabilizer, Three Phase Air Cooled Servo Voltage Stabilizer and Three Phase Oil cooled Servo Voltage Stabilizer. All these offered products are highly capable of solving the problems of voltage fluctuation and are specifically engineered by the experts in compliance with the international quality standards.




AVR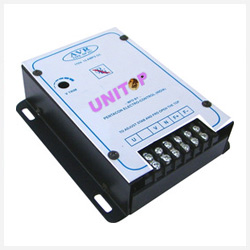 Pentacon DP 201 AVR is half wave thyrister controlled associated with free wheeling diode for brush-less type alternators. DP 201 is designed a spacial relay-less electronic circuit, compatible with all in-range excitation ratings brush-less type alternators. Pentacon DP 201 AVR is a repairable unit, a thin coating of epoxy is applied to prevent damage from vibration, moister. Pentacon DP 201 AVR is provides under-speed excitation protection, by reducing the output voltage proportionally with speed bellow a preset threshold. Use of high efficient and sensitive semiconductors, positive voltage build-up is ensured from lower residual voltage.


Specifications:
Input voltage : up to 475 ac, two phase &neutral at u,v &n
Input frequency : 50 hz & 60 hz , adjustable through trim-pot
Output voltage : up to 110 vdcatf+&f-
Output current :5 amps continuous/ 11. 5 amps transient for 10 sees.
Regulation :+/- 1%
AVR response :20 ms
Build-up voltage :5 volts at AVR terminals
Under frequency
Protection :47 hz (resettable) at factory setting
Protection fuse :4 amps fast blowing glass fuse 19mm x 5 mm.
UPS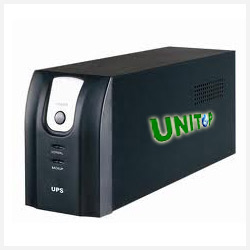 We offer high performance offline UPS that are specifically designed in accordance with latest technology at par with international standards. These offline UPS system provide appropriate power back-up and are useful in various applications where power fluctuations occur very frequently.
Isolation Transformer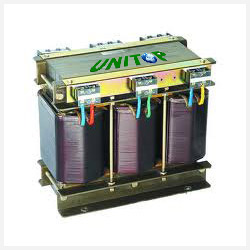 Lorem We are counted among the most eminent manufacturers & exporters of a comprehensive assortment of Isolation Transformers. The range we provide under this category comprises of Isolation Transformers, Step Up Down Transformers, dry Type Transformers, resin Cast Transformers. All these products are highly in conformance with the predefined industrial standards and norms and delivers flameless performance in varied industrial, & commercial sectors.
Battery Charger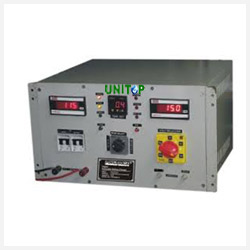 Our clients can avail from us a quality approved range of Battery Chargers. These are premium quality chargers that are used for different types of devices. Our entire range of chargers is procured from reliable vendors of the industry, who hold expertise in the domain. They manufacture these products using premium quality material as per the international quality standards. Our clients can avail these high quality chargers at competitive prices as per their requirements.
Battery Racks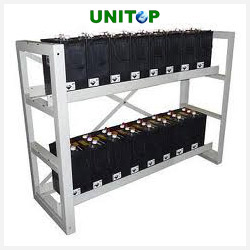 We are the pioneer manufacturer of wide range of Battery Racks (Outdoor / Indoor type ) in I.P 55 - 20 rating racks using high quality of standard raw material & fabricated on high precision CNC machines at very competitive cost used in various application as Small Telecom Towers, Battery Mounting Racks & other assorted applications.
Copyright © Unitop Power Electronics Private Limited. All Rights Reserved
Site Developed by Just Int Media