Power Electronics Pvt.Ltd.
ISO 9001:2008 Certified
Follow Us On :





Email : info@unitoppower.in

UNI-SOLAR
Solar Water Heater ETC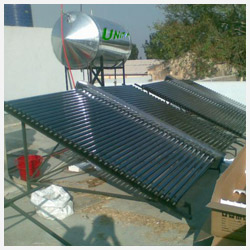 When solar radiation passes through a transparent cover such as glass and impinges on the blackened absorber surface of high absorptivity, a large portion of this energy is absorbed by the plate and transferred to the transport medium in the fluid tubes, to be carried for storage or use. The underside of the absorber plate and the two sides are well insulated to reduce losses. The liquid tubes are welded to the absorbing plate and are connected at both ends by large diameter header tubes. The awter enters from bottom header , rises up the tube as it heats and passes to the tank.
Solar Water Heater FPC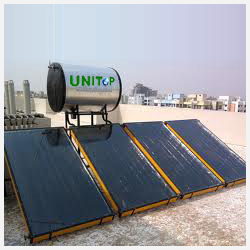 In FPC type flat plate collectors are used, FPC systems are making use of metallic plates instead of glass ones, and have longer life,these systems are available with and without heat exchanger. They can also work with and without pump. Systems without pump are known as thermosyphon systems and forced circulation systems must have pumps.
Solar Street Light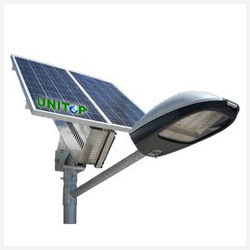 Solar street lights are best alternative for current operational public lighting systems as they are installed in open space by default, this enables best fallout of solar radiation thereby enabling better solar power production with fullest capacity.
Solar Lantern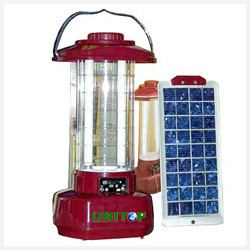 Solar Lantern are robustly built to make them handy with ease of use, with over 3 hours of continuous lighting, This is a revolutionary new product that harnesses the insulation available where ever we go. As latest introduction into the market, it is aesthetic,lightweight, and easy to use. A single charge is enough to make it gleam, and works as a do-carry emergency light during power cuts.As it is a portable light source, It can be fitted in areas where sunlight directly fall on it. They give pan- directional at free of cost.
Solar Off-Grid Projects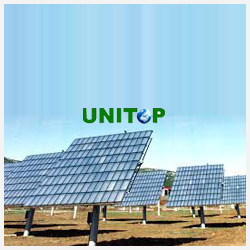 In the last 10 years, we have also achieved an exponential growth from being an Electrical company to our diversification into several other emerging areas of operations. With our growth, we have also realized that we can contribute substantially towards society through using available skill sets in promoting clean energy. Keeping this in mind, we established Solar Business Vertical to support initiatives for renewable energy by Central Government and many other State Governments, thus tapping market opportunities in this domain.
The Solar Business Vertical of Sterling and Wilson draws its strengths from the synergies and immense talent bank the company has for electrical contracting, proven project management skills and managerial capabilities for Thermal Power Plants, Power distribution, Sub- Stations etc which has been our core strengths for decades.
Copyright © Unitop Power Electronics Private Limited. All Rights Reserved
Site Developed by Just Int Media